Jinan University (JNU) is a public research and comprehensive university based in Guangzhou, Guangdong province, China. It is one of the oldest universities established on mainland China tracing back to the Qing Empire. Its mission is to spread Chinese learning and culture from North to South and from China overseas. Jinan University was the first university in China to recruit foreign students, and is currently the Chinese university with the largest number of international students. The University of Jinan is an excellent university.
In 1996, it was included in the list of the 211 Project for the state key construction. It is a university administered by the Overseas Chinese Affairs Office of the State Council and the Chinese Ministry of Education.
In 1906, Qing Dynasty minister Duan Fang submitted a memorandum to the Guangxu Emperor, proposing that an overseas Chinese school be set up for the purpose of spreading far and wide the enlightening influence of education and strengthening the emotional ties with compatriots overseas. Emperor Guangxu approved of his proposal and thus Duan Fang was honored as the founder of Jinan University. On March 23, 1907. Jinan Academy was founded in Nanjing, becoming the first of its kind in Chinese history and serving as a curtain-raiser for the later development of overseas Chinese education. In 1927, Jinan Academy was renamed Jinan National University, located in Shanghai. After the found of the People's Republic of China (PRC) in 1949, Jinan University was closed and its schools were merged with those of other university such as Fudan University. In 1958, Jinan University was reestablished in Guangzhou.
The university has 5 campuses
Main campus, Tianhe District, Guangzhou
College of Chinese language and culture, Guangzhou
Zhuhai Campus, Zhuhai
Tourism College, Shenzhen
New campus, Guangzhou
Academic program and departments
International School is a college which provides programs taught exclusively in English. The School was established to cater to the escalating needs of Overseas Chinese and foreign students and selected high-caliber students from China. The Undergraduate Programs include Computer Science (CS), International Economics and Trade, Clinical Medicine, Accounting (CGA), Food Quality and Safety, Pharmacy, Public Administration (ADM), Finance (FIN) and MBBS. Clinical Medicine College was stabilized in 2003.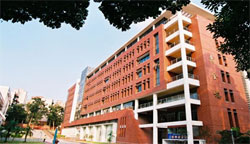 Jinan University has 25 colleges, comprising 55 departments and offering 86 undergraduate major fields. Among the 55 departments, 43 departments offer master degree programs and 19 departments offer Ph.D degree granting programs. There are 15 postdoctoral research stations, 170 research institutes and 84 labs in Jinan University. The university has four national key disciplines, eight key disciplines of the Overseas Chinese Affairs Office of the State Council, 20 Guangdong Province Level-I key disciplines, and four Guangdong Province Level-II key disciplines. The university also has a key research base of national humanity and social sciences, a teaching and research base for Chinese language and literature of the Education Ministry, a base for national university cultural quality education, a base of national base for teaching Chinese as a foreign language, an educational base for overseas Chinese education of the Overseas Chinese Affairs Office of the State Council and a key research base of humanity and social science of Guangdong Province. Still, the university has one national engineering center, 7 ministerial centers (engineering centers of the Ministry of Education) and provincial centers, and 11 key ministerial and provincial key laboratories. There are 44,369 students in the university, including 10,354 graduates and 18,737 undergraduates. The number of overseas students, including foreign students, overseas Chinese students, students from Hong Kong, Macao and Taiwan, is 11,124.
The university has 1940 members of teaching staff, among whom 288 are full professors, 583 associate professors, 388 doctors and 861 masters, 24 provincial and municipal top talents, 7 young specialists with "outstanding contribution made to Shandong Province". 69 of the faculty enjoy special subsidy from the state government, 17 of them are titled "Excellent Teachers" by the state or provincial governments and 14 of them received Zeng Xianzi Education Found Award. In order to enhance the teaching quality, the university focuses its efforts on teaching task, intensifying routine administration of teaching, improving the system of teaching quality inspection and optimizing the style of teaching and learning. It adopts a chain of measures to promote the teachers' performance and introduce high-level talents. It has also established some special teaching posts for the disciplines and talents concerned to develop more effectively.
Accommodation
Jinan University have international student hostel. All facility is available in hostel room. Facilities are Washroom, fridge, air-conditioner, telephone, Internet Interface, drinking water appliance, sunny balcony and kitchen.
Fee Structures
General Medicine – 34000 RMB/Year
Hostel – 7000 RMB/Year